DUE TO THE COVID-19 SITUATION AND THE LARGE NUMBER OF ORDERS, ALL OUR LEAD TIMES ARE EXTENDED. WE WILL DO OUR BEST TO ANSWER YOUR EMAILS.
KOSO RX1N+ GP Style II multifunction speedometer with universal black background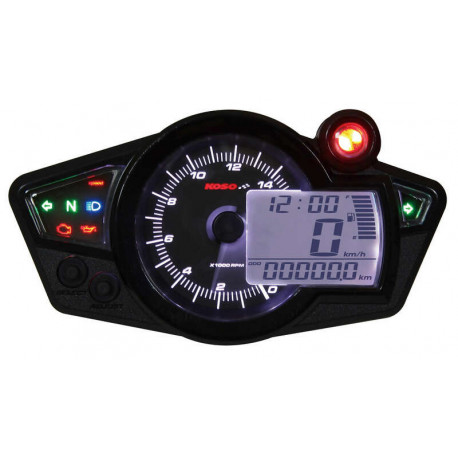 View larger
BA011210
New product
The right size and shape for your hypersport, roadster or touring bike! With its illuminated needle counter and backlighting, readability is perfect, even at night. The speedometer has all the usual functions: speed, rpm, total and trip meters, temperature... and a multitude of practical advanced functions. This meter has everything you need for road driving!
Multifunctional digital speedometer
Fits on many vehicles
Indicators: indicators, lights, oil level, dead centre, EOBD, shift light 2 thresholds, speeding (max. speed set exceeded)
Functions :
Speed in km/h or (MPH), up to 360km/h (or 223MPH)
Rev counter up to 15,000 rpm
Shift light 2 adjustable thresholds
Total odometer
2 trip meters
Water and oil temperature display 0-250°C
Max temperature warning
Meter adjustable according to wheel diameter
Fuel gauge & low fuel level warning adjustable
Watch
Recording of speed, engine speed, max temperature
Speed and target distance function
Power supply: 12V
European approval